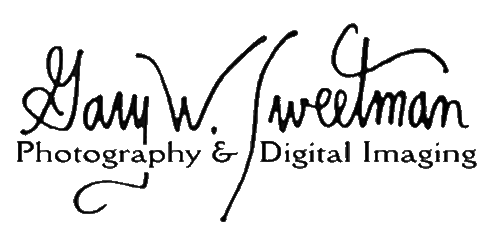 We are proud to be a Super Guarantee Partner!
Restoration , Treasure Blends, Family Ancestry Slideshows & DVDs, Document Restoration and Memorial (Funeral) Service presentations from Gary W. Sweetman Photography & Digital Imaging Inc.
"What you did was amazing! When I looked into the photos (of her ancestors) it was like I was seeing them for the first time." ....testimonial from Jennifer.
We have many other great reviews on Google and various consumer websites. You are dealing with a real studio, with real people who care about your project and helping preserve your heritage for generations.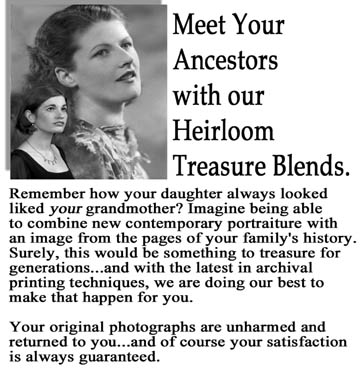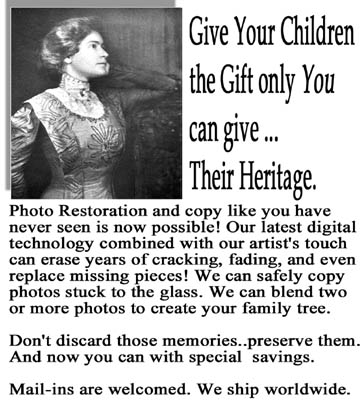 In a rush? Memorial Service, birthday or anniversary? Just call! And below is a great example of an Ancestry Slideshow/DVD. Hit the "ESC" key first to silence the player piano background music, as the video sample has music.
This "art piece" restoration blends the family's Italian heritage map with early photos of the "homestead and Grandpa" back in Italy. Our client was soooo pleased!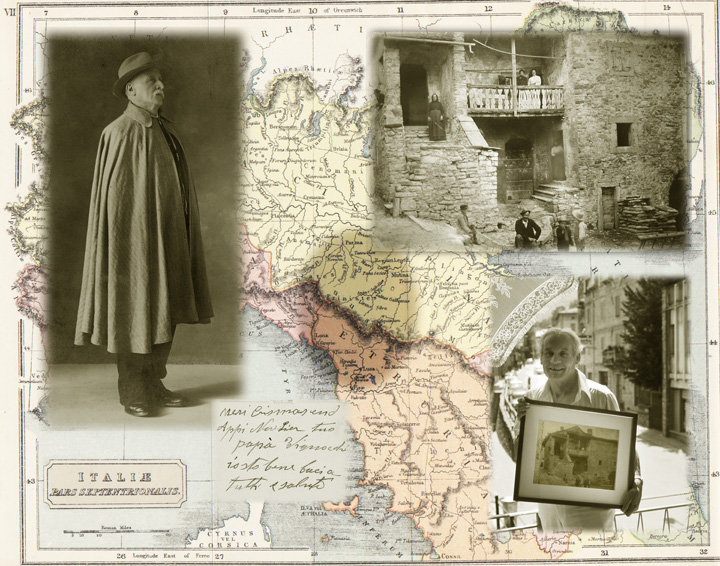 Below, on their 50th Anniversary, Gary incorporated one of their original wedding photos: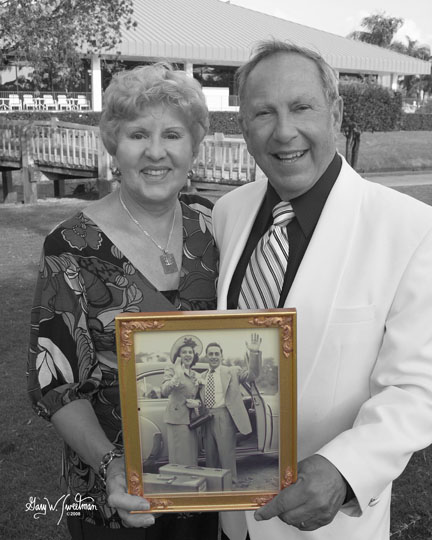 Now take a closer look at these. Keep scrolling and looking. Go all the way to the bottom. There are some great coupons (print them out and bring or mail them in! We accept restoration work worldwide!)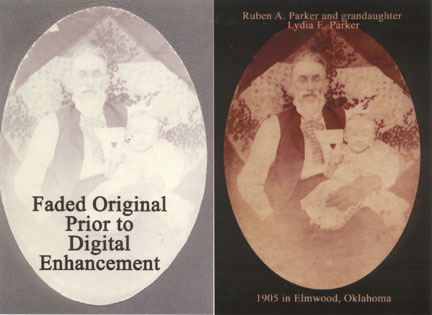 We often put the names and dates directly on the front of the photo so people know the relationship and age of the image....It's great!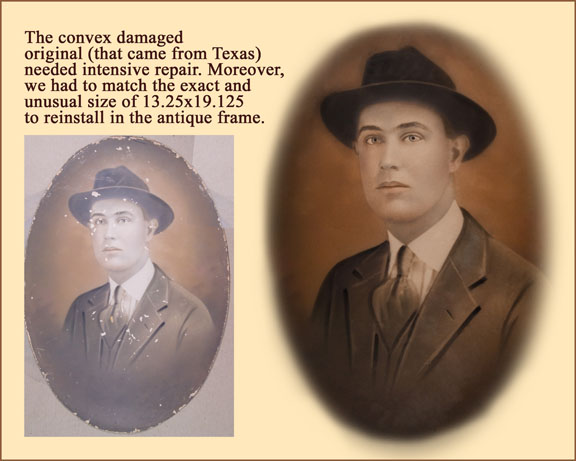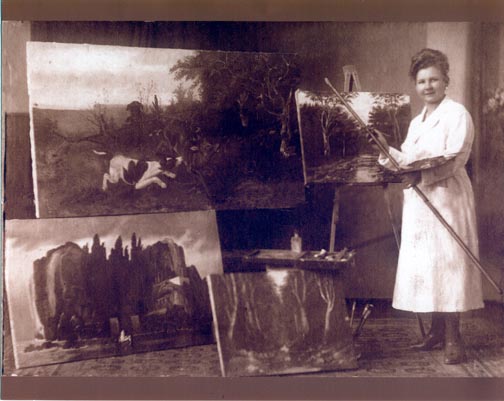 Sometimes we uncover a real treasure! We restored this amazing 100 year old photo of a German Artist in her studio.
Hi Gary:
I hope you remember the beautiful picture you created for me to give to my daughter-in-law, Laura.
Just wanted to share a line or two that she sent me in my Christmas card.
'There is not a day that goes by that I don't think of dad (especially here around the holidays). I miss him so terribly but I have lots of wonderful memories and seeing his big grin in this collage you made only brings a smile to my face each day I see it. I don't think any birthday gifts in my future will ever top this one. Thank you very much for giving me such a wonderful way to remember dad, and one to pass down to my boys when I am gone - I love it!'
Thanks again, Gary.
Judi Dewett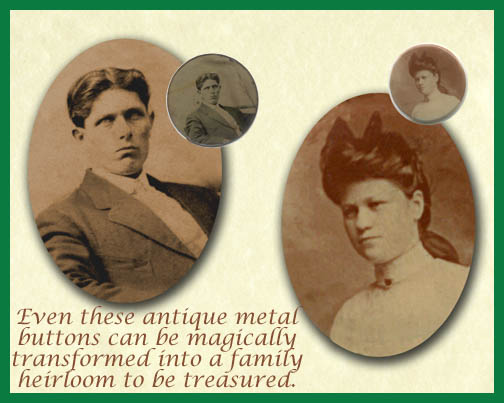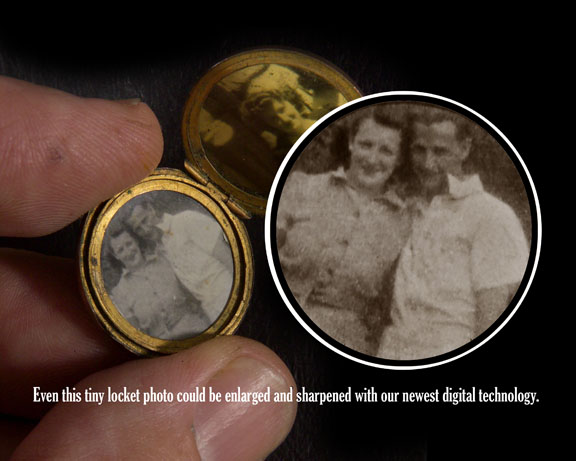 from Christmas 2007..."Dear Gary,
The photo's were very nice...We love them. You did a wonderful job. be assured if we need any pictures or photos done you will be who we get."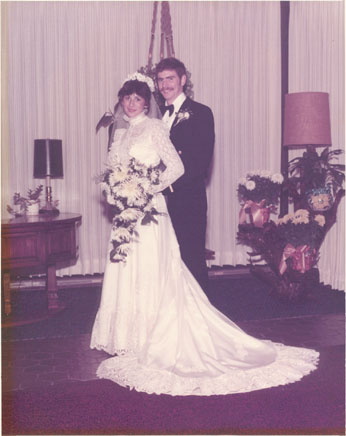 No, this isn't one of Gary's early wedding photos....but it IS a 70s image that is fading and in need of better composition. If you look at the edges (do this on your own images that you are thinking of having us restore) you can see the original color that was not faded by light exposure. For their 25th anniversary, the parents gave them a restored original on a NEW background....see below>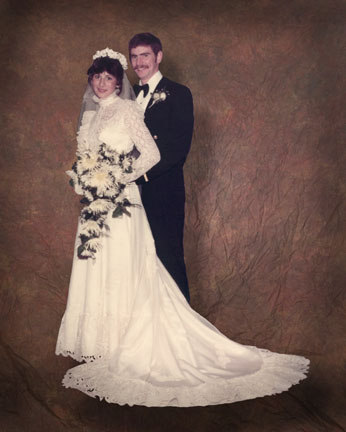 ....but we didn't make the bow tie any smaller.....ah the 70s!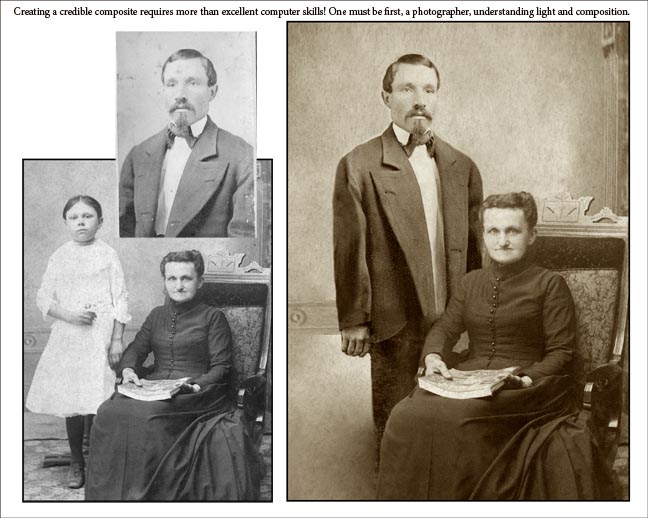 The above was done for a new Lithuanian Immigrant Museum. A photo of "Mom and Dad" didn't exist. But now it does!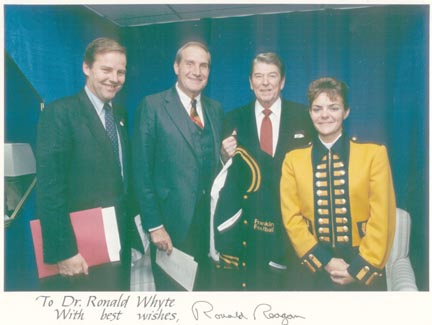 This was an interesting job. We needed to take the central core people, move up the signatures and loose the bell hop in the gold jacket. We also needed to extend the background. A great job! One for the gipper! See below>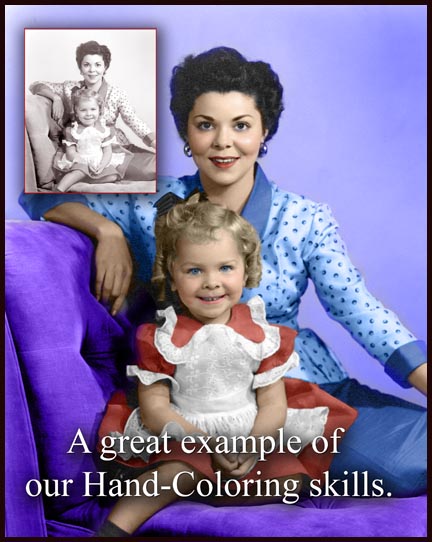 +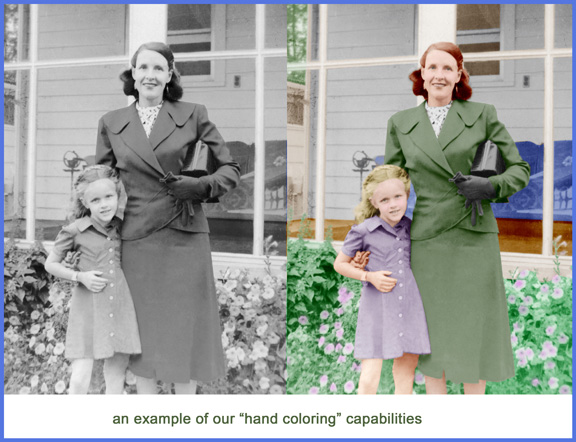 We are often "history detectives" as well...determining period colors. Note that patent leather purse.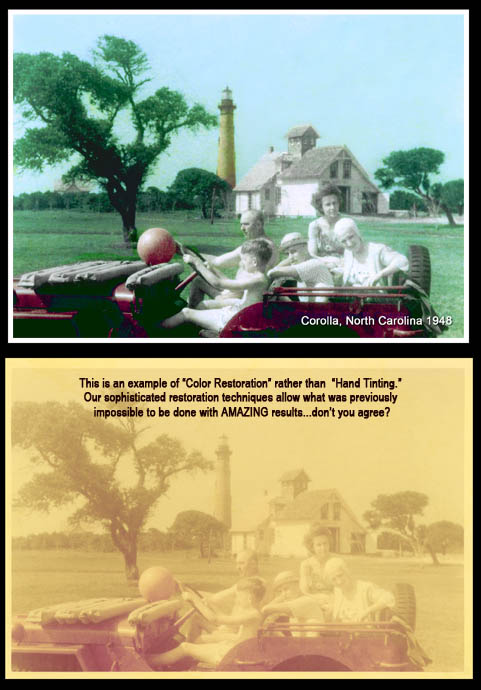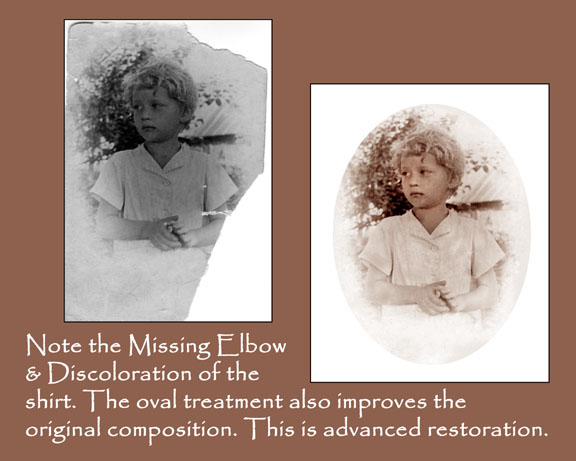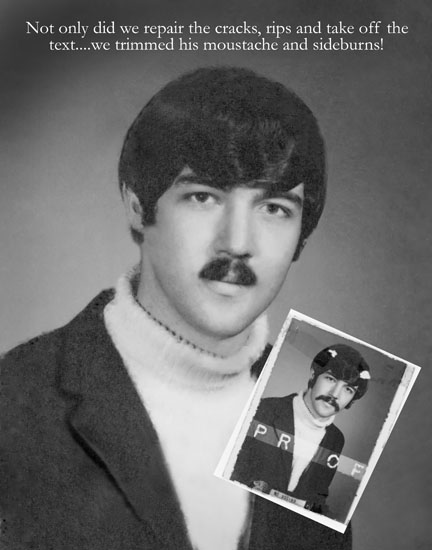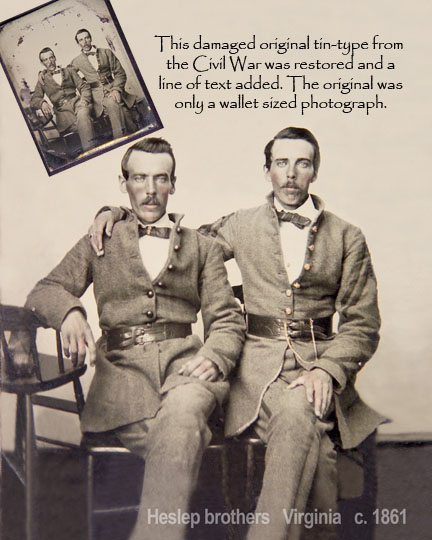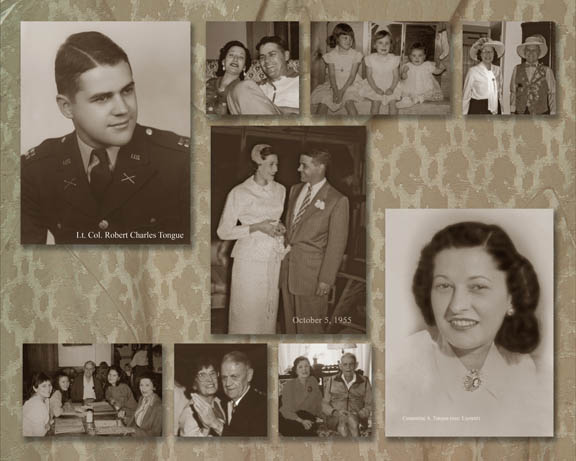 Gary photographed the antique wedding dress to create a background for this project. The decades from their 1950s wedding through the 2000s are represented. Each image required restoration. Bring the divergent tones to a uniform sepia gives the art piece continuity. What can we create for you?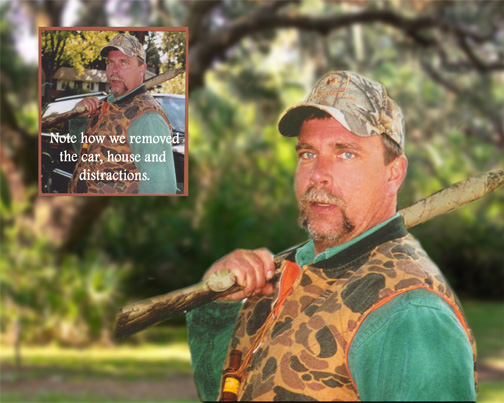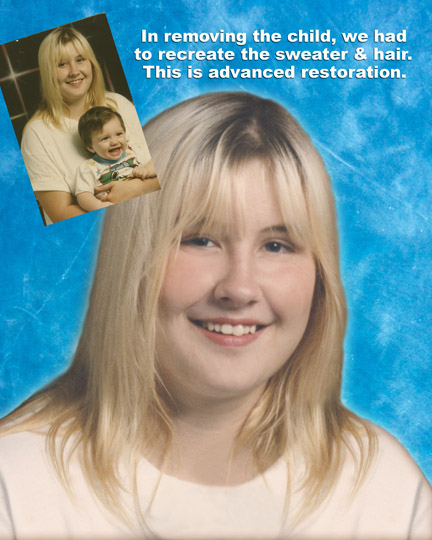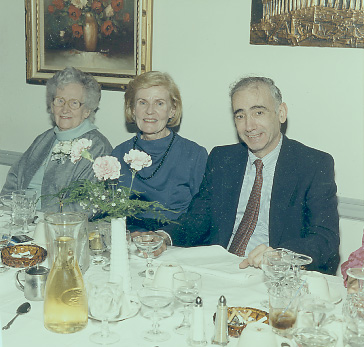 A simple snapshot above is enhanced by color correction and shadow removal.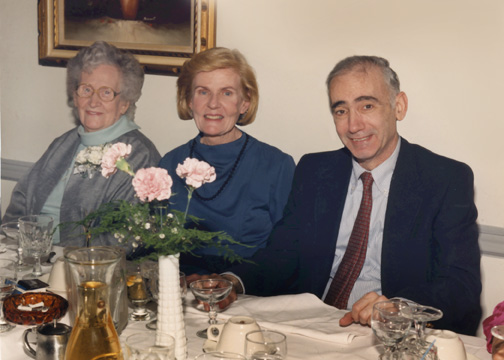 And below... two nother great example of color restoration.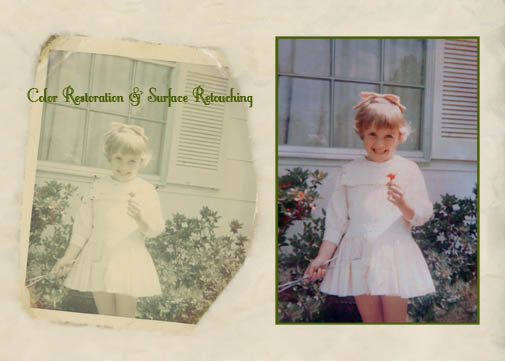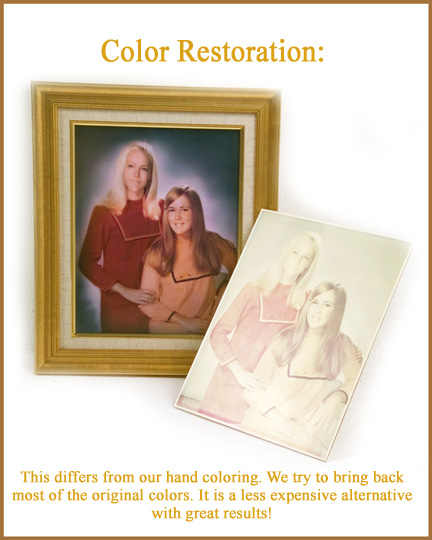 Below is an example of document restoration.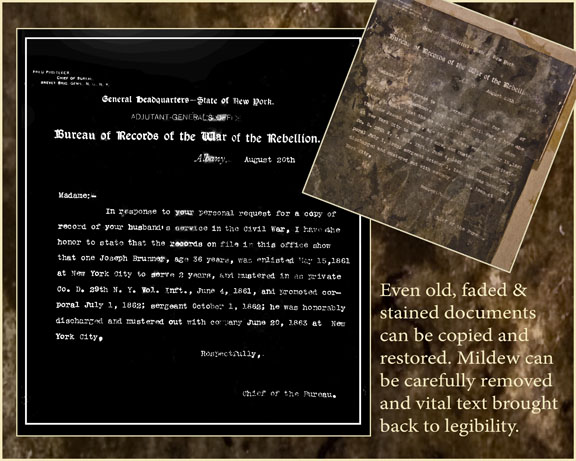 Since we have been in business for more than 30 years, we have a great collection of frames...many of which have long been discontinued that might meet your needs to find a match. Years ago, Gary found a small glass manufacturer that was still making the 12x20, 14x20, and 16x20 convex and concave oval and cathedral glass. We bought several "lites" and still have a few. Let us know if we can help.

Back to Home? click here>index